Light Bar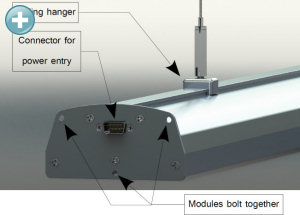 A sliding mount is provided that may be positioned anywhere down the length of the module. It is retained by a 6mm eye-bolt or 6mm grub screw which in turn threads into an adjustable aircraft wire hanger clamp. The module is symmetrically balanced.
Power Input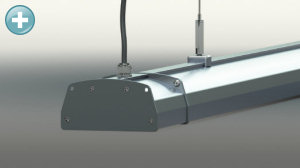 The Power Input Module with resettable fuse is bolted on the end of a light bar, 24V AC feeds into the Power Input Module through a cable gland.
Control
The Control Module is connected to the length of Light Bars in the same manner as the Power Input Module - it simply bolts on the end.
Assembly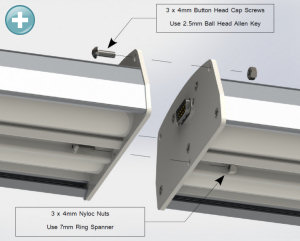 The aisle of light begins with the Power Input Module, up to 6 Light Bars and is terminated with a Dimming Control Module. They are simply plugged in to each other, end on end and held together with bolts.