Power house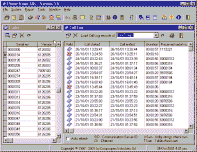 The DMP (Dialler Management Platform) is the powerhouse behind almost every Compuspec Solution. It provides the functionality, flexibility and control needed to implement and maintain a telecoms services solution.
Strong platform
The DMP is built on an industry standard SQL database platform. This allows high levels of security to be integrated into the system while still maintaining a high level of flexibility. Because it is an industry standard, integration into other systems, such as reporting or CRM systems, is fast and simple.
Useful reporting
A important function of the DMP component of a solution is the timely and accurate reporting that it provides regarding the desires, requirements and habits of a customer base.
Responsive control
Control never seems so important as when it is lost. Similarly, control of a population of intelligent hardware distributed around the country, should not be taken lightly. The DMP puts the control of the entire population of intelligent diallers, data loggers, and service portals entirely at your fingertips, and keeps it there.
Why manage?
Manage Regulatory Changes
Change Routing Partners
Change Services on Demand
Upgrade Software
Monitor Customer Usage
Serve Information to Customer
Manage External Assets
Anticipate Customer Behaviour
Features
Reporting of Customer Usage
Group or Individual Configuration
Default / Preconnect Configuration
Self Serve Customer Configuration
Suitable for Retail Products
Runs on Standard Hardware
Minimised Network Costs
Fully Scalable
Integration into CRM Systems
Online Web Reporting