Advanced features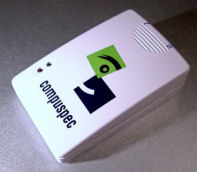 As part of a Compuspec solution, the V6 dialler is an incredibly powerful, feature rich tool for many complicated applications.
Patented technology
The V6 uses patented ZIPPY technology to never break the line during the placement of a call, a failure of so many other diallers.>/p>
Dialler of choice
The V6 is the 'swiss army knife' of diallers. With large amounts of programmable memory, it has performed in vast numbers of applications and has always stood out as the dialler of choice for those with more advanced requirements.
Popular look
While the V6 feature set can be offered in any of Compuspec's many case options, it can traditionally be found in Compuspec's renowned rectangular sloping case.
Features
Line Powered
Company Branding on Case
Capable of Being Posted
Electronic Serial Number
Auto Answer Capability
Wall or Desk Mountable
Remotely Programmable
Easy Installation
Tone and Pulse Recognition
Remote Diagnostics
Serial Port
Extra Large Memory Capacity
Accepts AC Power
Low Current Consumption
Services
Prefix Insertion
Exchange Services
Selective Call Blocking
Message Alerting
PBX Features
True Least Cost Routing
Digital Messging
Information Conduits
Fraud Prevention
Web Interaction
WAP Interaction
Call Detail Recording